GoDesi has inaugurated COW cuddling services in India. Cow Cuddling is already common in western countries which is practiced to avoid/reduce stress, depression, BP, respiratory diseases, anxiety, spinal problems, social disconnect, TB etc.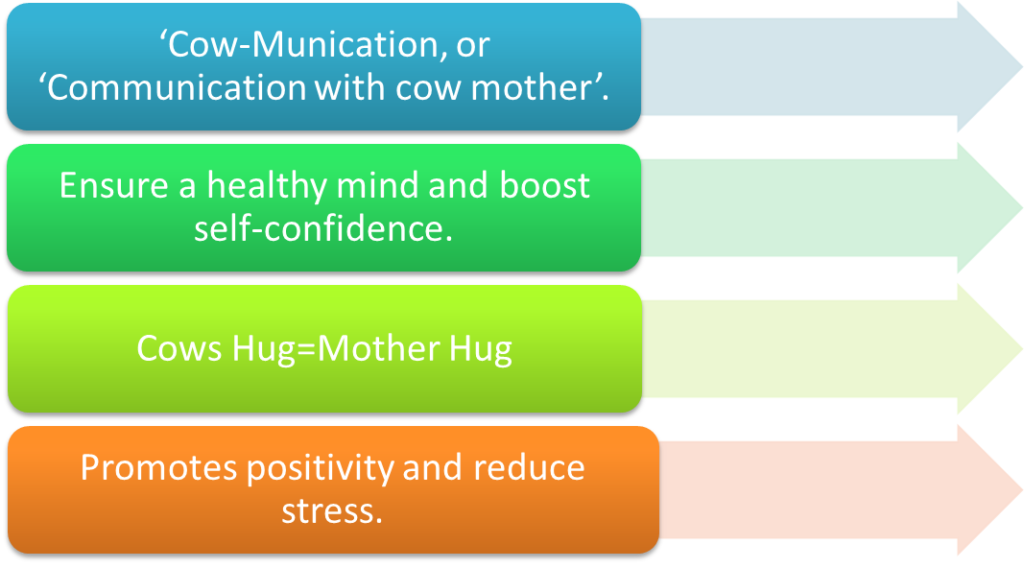 The pandemic induced an immense amount of loneliness in people. With restrictions imposed on physical touch and forced isolation, it pushed people into a gloomy and sad mindset. While preventive measures are necessary to ensure one's physical health, the abrupt alterations to the human lifestyle did take a toll on the mental health of people.
People who have experienced cow cuddling reported feeling a sense of relaxation. It has also instilled a sense of positivity and helped reduce stress. Ever since the pandemic began, people have been longing for touch, warmth of it, optimism, and stress reduction methods. A probable explanation of why cow cuddling has been popular around this time could be the therapeutic effects it induces. A boost of oxytocin is highly welcome in the current scenario and cow cuddling came to the human rescue in a time when they needed it the most. 
Research
Americans have done extensive research and have realized the importance of 'COW'. The practice of being with cows, serving them has great positive effect and it has been scripted in lot of ancient Indian scriptures.
Cow cuddlers typically start by taking a tour of the farm before resting against one of the cows for two to three hours. The cow's warmer body temperature, slower heartbeat and mammoth size can make hugging them an incredibly soothing experience, and giving the animal a backrub, reclining against them or even getting licked is all part of the therapeutic encounter.
A 2007 study in the journal Applied Animal Behaviour Science states that cows show cues of deep relaxation, stretching out and allowing their ears to fall back when massaged in particular areas of their neck and upper back.
Cow Cuddling Therapy Cost
Per Individual: Rs 200/ Hour Entry Fee
Per Family ( couple and children): Rs 500/- Hour Entry Fee
Note: Rs100/- per each extra Hour