About GoDesi Vedic Bilona A2 Ghee
Finest Desi Gir Cow's hand churned ghee made by Vedic traditional method in our own Farm.
Milk sourced from our own farm from Gir cows, the cows are reared, fed with natural grass and feeds.
Our Ghee is Golden color with rich Aroma, which has ayurvedic and medicinal properties.
We use around 33 litres plus of A2 Milk to make 1Kg of this precious traditional Vedic Ghee.
Complete package of vitamins and acids that promotes good health.
"GoDesi A2 Ghee is extracted from churning the curd of whole milk of Desi cows –Vedic Bilona Ghee"

Ghee from hybrid A1 cow milk: Ghee extracted from milk cream (Malai)
Ghee extract from animal and vegetable fat
Ghee extracted from Buffalo Milk/Fat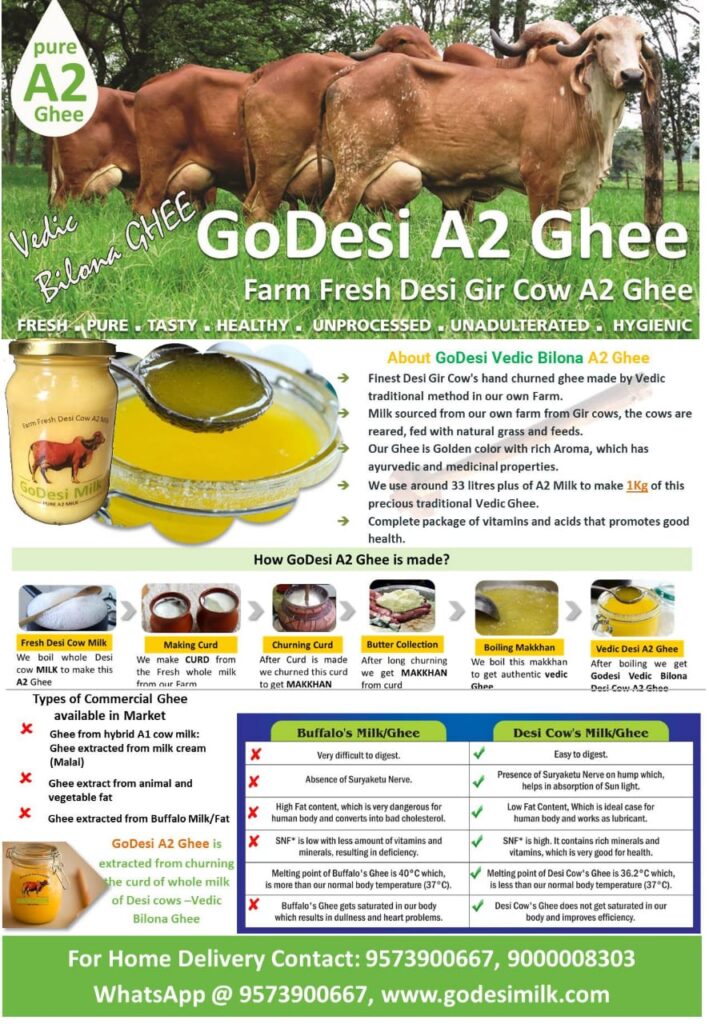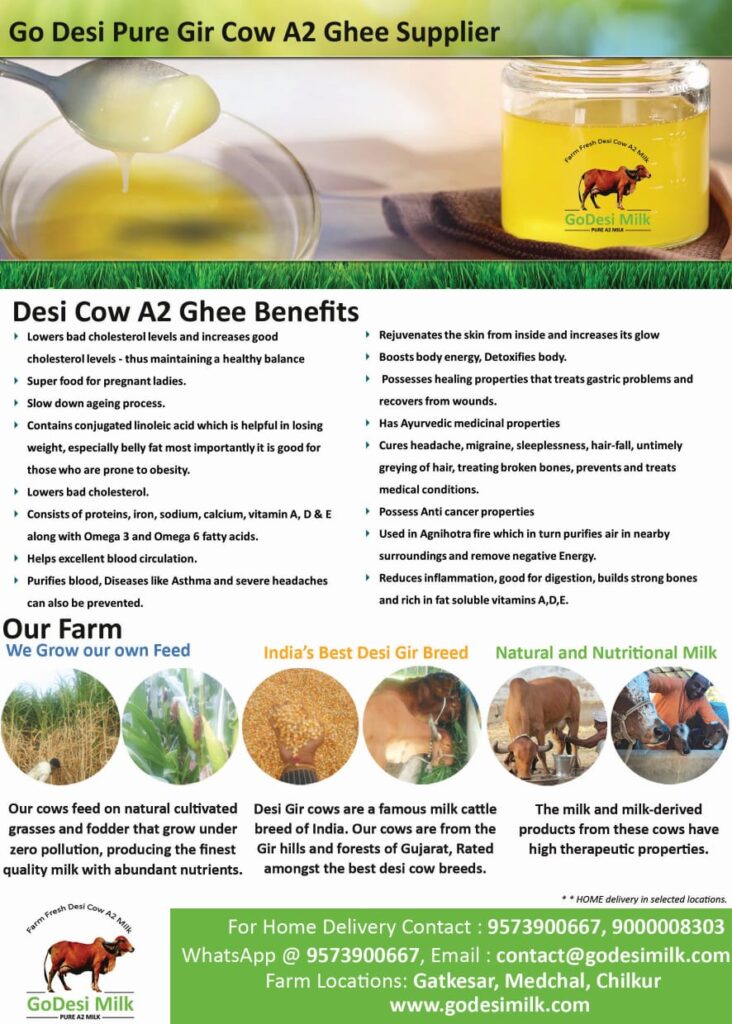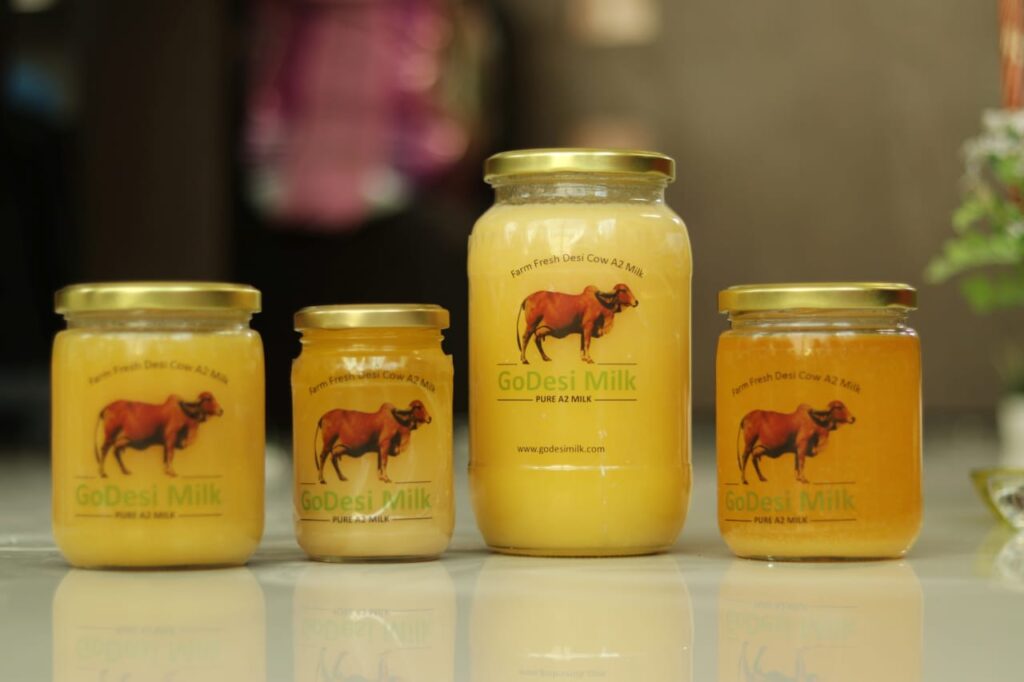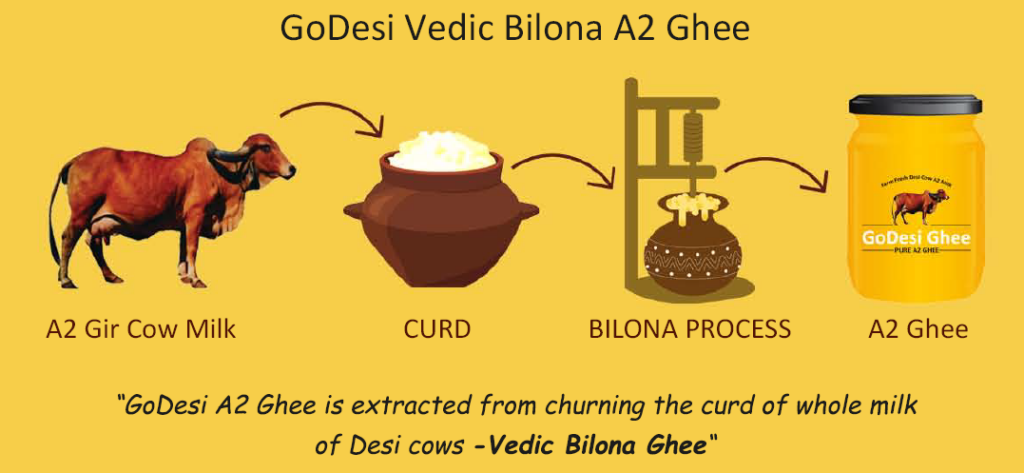 How A2 Bilona Desi Ghee beneficial for Kids??
Child's diet requires an adequate amount of nutrients. There are various vitamins, minerals, fats, etc. which should form a part of a healthy and balanced diet for any child. Ghee is the healthiest source of fat. Ghee contains DHA which is considered very important for brain development and growth.
Also, babies need more energy to stay active throughout the day. Ghee is a good source of calories which will help the baby stay fit and active. The anti-bacterial, antioxidant and antifungal properties of ghee help in improving digestion, eyesight and immunity. There are many such benefits of cow ghee for babies.
WHAT ARE THE HEALTH BENEFITS OF GHEE FOR KIDS AND INFANTS?
A growing baby generally needs about 1500 calories per day. These calories help in maintaining the energy and fitness of the child. They also help in the growth and development of the baby. About 30% of calories that the child consumes come from the fat intake.This does not mean that you can feed the baby with oil-rich or fried food. Good source of fats are the ones which will benefit the child, hence ghee is recommended. Ghee not only helps in keeping up the energy of the baby but also helps in building immunity. A good ghee massage is very good for getting soft and moisturized skin for babies.
9 BENEFITS OF DESI COW GHEE FOR BABIES
Massage oil- The best massage for a baby is with pure desi ghee. The natural moisturizing qualities of ghee help in keeping the skin healthy, soft and smooth.
Treats dry cough- An age-old remedy of dry cough for babies is giving them peppercorn infused desi ghee. A small quantity of ghee which has the essence of Black pepper is given to the babies to fight dry cough.
Source of energy– Ghee is a very good source of fat. It helps the babies to stay active throughout the day by providing them with enough calories and energy.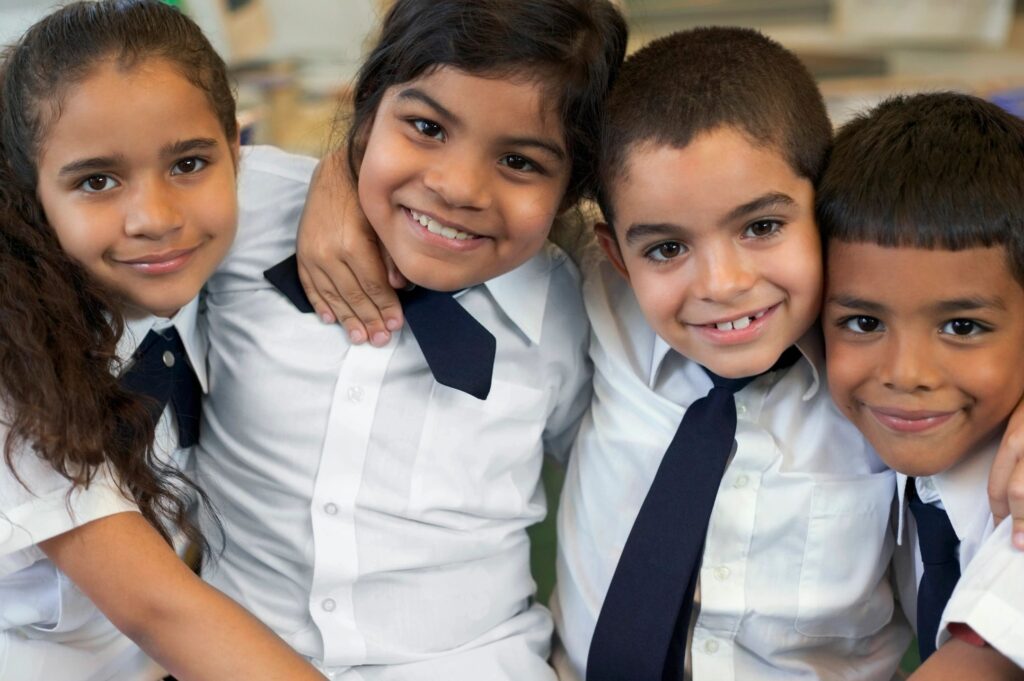 Moisturizer– Desi ghee works like a wonder for dry skin which is often seen in small babies. This dry skin causes the babies to get uncomfortable and irritated. Ghee helps in soothing their skin.
Helps in digestion– Ghee stimulates the secretion of digestive enzymes inside our body. These help in easy digestion of food.
Rich source of vitamins– Ghee is a super rich source of Vitamin A, D, E & K. These vitamins are good for eyes, skin, health and immunity.
Brain development- Ghee contains DHA as well which is essential for brain development. DHA, which is a structural fat, aids in the development function of brain and eyesight.
Helps in strengthening bones– Vitamin K in the Ghee helps in producing calcium in the body which is responsible for making the bones strong.
Good for lactose intolerant babies– Even if your baby is lactose intolerant or casein intolerant, you can give them desi cow ghee without any worry. Since ghee is made from makkhan / loni, it does not have the milk solids or other impurities in it which other dairy products generally have. Also, casein (protein) is present in a really small amount in the desi ghee.
For More information on Ghee and its importance and impact on global market
So to order this precious, homemade, completely natural and filled with nutrients ghee, you can call or whats app us at +91-9573900667 / 7207887740. You can also write to us at [email protected]