---
1. I want Pure A2 Desi Cow Milk, how can I order?
We at Go Desi provide pure , fresh, natural desi cow A2 milk. If you want the milk subscription, all you need to do is whats app us at 7207887740 / 9573900667 with your name, location or address. And our team will contact you ASAP.
*Note: Include detailed information like Plot/Flat no., nearest landmark, area name, building name, etc. when sharing address.
---
2. Do you ship overseas and to P.O. boxes?
Yes, we'll ship your package anywhere that can accept deliveries.
---
3. Do you have customer service?
Of course! Our friendly and knowledgeable customer services reps are available to answer your questions 24/7/365.
---
4. Do you provide A2 Milk?
Yes, we provide only A2 milk from original Gir breed cows.
---
5. What other products than Milk do your offer?
We offer Shuddh Desi Ghee and Paneer other than Milk. See our milk products
---
6. Do you have your own farms?
Yes, we do.
---
7. WHERE IS YOUR FARM LOCATED?
Go desi farms are located across four areas in Hyderabad, which are Medchal, Ghatkesar, Chilkur and Patancheru. Find more details at http://godesimilk.com/contact/
We have farm in Nagpur and also in Chennai to serve Chennai and Andhra region.
---
8. FROM WHICH FARM WILL I GET MILK?
Based on your shared location, we will supply milk from the nearest farm, so that you can get the freshest milk possible.
---
9. WHAT ARE THE AREAS YOU DELIVER MILK TO?
Click here to know nearest store locations
*Note: In case you do not find your area listed here, whats app your Google location to us. Our delivery team will contact you.
---
10. AT WHAT TIME DO YOU DELIVER THE MILK?
We milk cows two times daily; morning and evening at 5 o'clock. The delivery timings are between 6 and 10 either morning or evening.
---
11. IS THERE ANY MINIMUM QUANTITY, I SHALL ORDER?
Yes, it is 1 liter daily/alternate days.
---
12. WHAT IS THE DIFFERENCE BETWEEN A1 AND A2 MILK?
Find all the details about A2 and A1 milk (videos , images and content) click here.
---
13. WHAT TYPE OF COWS YOU HAVE IN YOUR FARM?
Majorly we have pure Gir cows breed lines.
---
14. THE MILK I GET IS RAW/PASTEURIZED?
We deliver pure, fresh and RAW milk. It comes directly from our farm to your home.
---
15. CAN I VISIT YOUR FARM?
Yes we maintain transparency, all our customers are allowed to visit our farm. All our farms are located in Outer Ring Road vicinity. Kindly take appointment from the delivery prior visiting the farm.
---
16. WHAT TYPE OF MILK PACKAGING DO YOU OFFER?
Our milk is delivered in sterilized glass bottles. We do not support plastic use. Our bottles are cleaned to supply fresh milk. Cleaning Process
---
17. HOW CAN I STORE THE MILK, ONCE RECEIVED?
Please boil the milk once received, after that you can store in fridge for 3 to 4 days. Wash & return the glass bottle on the next day for new fresh milk bottle.
---
18. WHAT IS YOUR COW MILKING PROCESS?
We do not strain cows, we do not use milking machines. First we feed calves and then we milk cows naturally with hands.
---
19. HOW IS THE BILLING DONE?
We follow post-paid billing method. Monthly wise billing based upon number of liters of milk taken. Bill is generated on the first week of every month, you can pay through cash, credit card, online banking, bank transfer, PhonePay, Gpay, PayTM or any UPI
---
20. I WANT DESI COW MILK, BUT MY AREA IS NOT LISTED IN YOUR DELIVERY ZONES?
You can collect 4 to 5 liters of milk from our stall Sale point @ GoDesi Office- 2nd Building to Hyderabad  Next Galleria Mall, Panjagutta Metro Station. As it is RAW milk, you can boil the milk and store in fridge for 4 to 5 days. Click here to see your store locations
---
21. WHAT IF I WANT TO TAKE A BREAK OR NEED EXTRA MILK?
If you want extra milk or take a break for few days, you shall inform the same one day before in advance to us in whats app, and also update to your delivery boy.
---
22. WHAT IF DO NOT RECEIVE MILK ON SOME DAY?
We will update you in advance so that you can plan for alternative arrangement.
---
23. WHY IS DESI COW MILK THIN AND LIGHT IN NATURE?
Unlike buffalo milk that has 8% of fat, desi cow milk contain only upto 4% of fat which is optimum for human body making it thin and easy to digest.
Buffalo milk though creamy and thick has around 8% fat, which is double the fat required for humans. This makes  A2 cow milk ideal and suitable for all ages/generations with higher nutritional values.
---
24.WHAT HEALTH BENEFITS WE HAVE WITH A2 MILK WHEN COMPARED TO A1 MILK?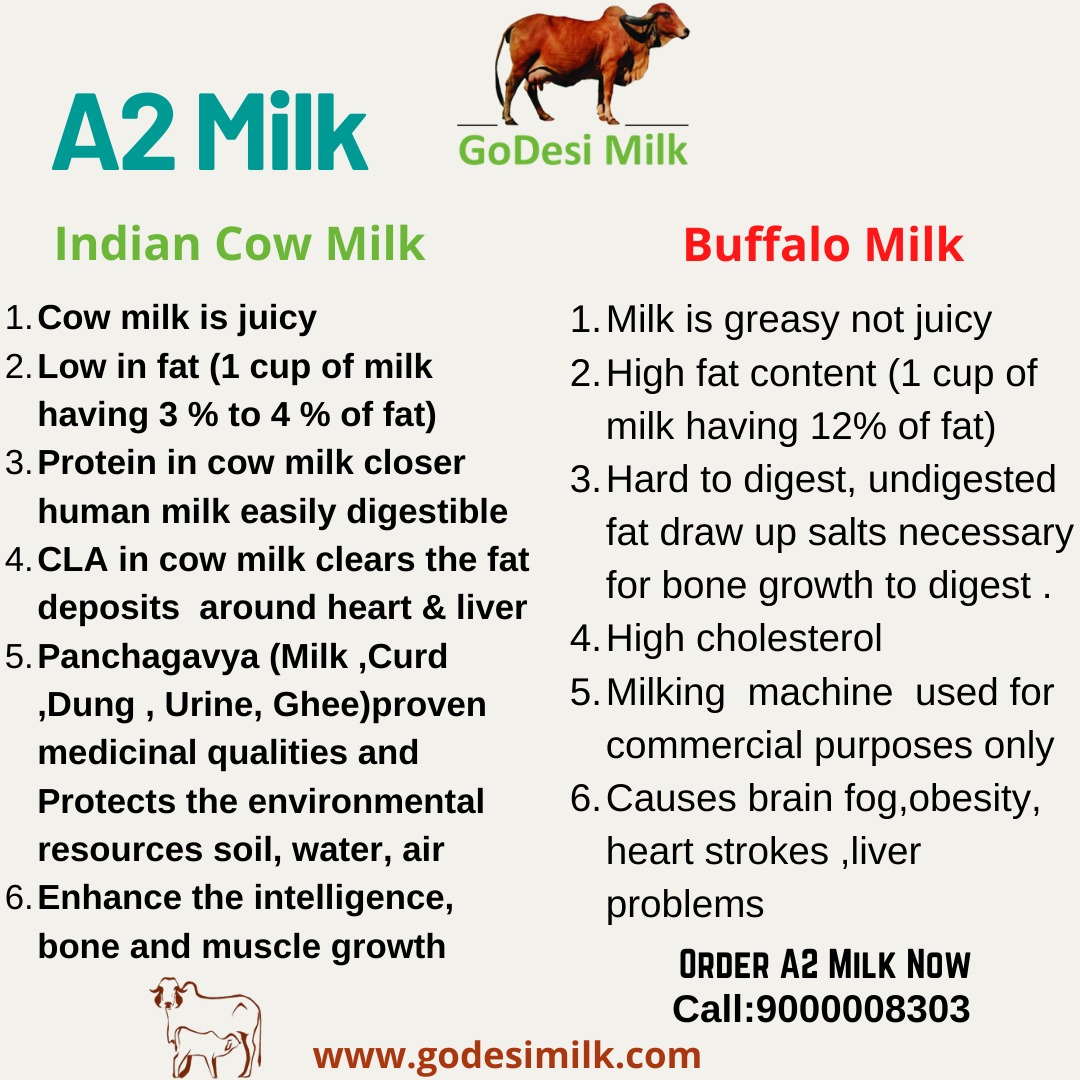 ---
25. DOES A2 MILK INCREASES IMMUNITY AGAINST DISEASES SUCH AS COVID-19?
 Yes, This Vitamin-D Fuelled A2 Milk Is A Game Changer For Immune Health. See More
26. DO YOU ADD ANY WATER OR COLOR OR ADDITIVES?
Our milk is farm fresh Raw milk. Our milk is raw, unprocessed, without any additives 
In package milk available in the market additives are added for standardization of color, texture, thickness and consistency etc. These additives not only decreases the nutritional value of milk, but it may be harmful to your health.
27.WHY DO MILK THICKNESS CHANGES?
Please note that milk thickness may vary periodically owing to seasonal changes in the fodder enjoyed by cows or their lactation cycles or weather etc. 
We  promise and guarantee that under any circumstances GoDesi  will never add any un-natural harmful additives to increase thickness or taste.
GoDesi Milk is natural, pure, raw and un-unadulterated. We do not compromise with respect to quality of milk and its health benefits
28.DO YOU USE ANY SUPPLEMENTS TO YIELD EXTRA MILK?
 No we never add supplements. We give natural grass and fodder for our cows. Our desi breed Gir cows yields more milk compare with more cows. Even udder of gir cows are bigger and has capacity of giving more milk.
---
GHEE RELATED QUESTIONS
1. DO YOU SUPPLY DESI COW A2 GHEE?
Yes we do. We prepare ghee using our own farm desi gir cow milk with hand churning bilona method.
---
2. HOW DO I ORDER GHEE?
Send us your Google location with plot/flat no with quantity of requirement.
Our delivery team will contact you.
---
3. HOW DO YOU PACKAGE GHEE?
In glass bottles to maintain fresh aroma and keep the nutritional and medicinal value intact.
---
4. HOW GO DESI A2 GHEE IS MADE?
We follow old traditional vedic bilona method to prepare A2 ghee. Initially, fresh desi cow milk is boiled which is then set for curd. Curd is churned to create makkan, which is then boiled to create authentic vedic style ghee. To know more click here.
---
5. WHAT ARE THE HEALTH BENEFITS OF A2 GHEE?
To know all the medicinal and health benefits of A2 ghee, click here.
---
6. WHY IS A2 GHEE COSTLIER THAN THE COMMERCIAL GHEE AVAILABLE IN MARKET?
Desi cow A2 ghee is full packed with many health benefits. Even doctors, dietitians and celebrities agree to this, here is a proof. It has all the required medicinal properties, values that acts as health boosters. It is not only ghee but health medicine, which needs patience, procedure followed with strict guidelines and decent amount of time to prepare. This makes the a2 ghee precious. Why is it expensive? It is like drinking affordable (less expensive) 5 tetra packs of packaged apple juice for 5 days over eating 3 high quality raw apples (which can be costlier than these 5 packs) for 3 days. You can decide which one is better and more nutritious. Similarly, consuming less quantity of this ghee over bulk consumption of other commercial stuff will help showing noticeable results. After all quality matters over quantity. To know more, click article 1, article 2 and article 3.  
---