Gift your friends and relatives with Healthy Sweets-Choose GoDesi A2 Milk Sweets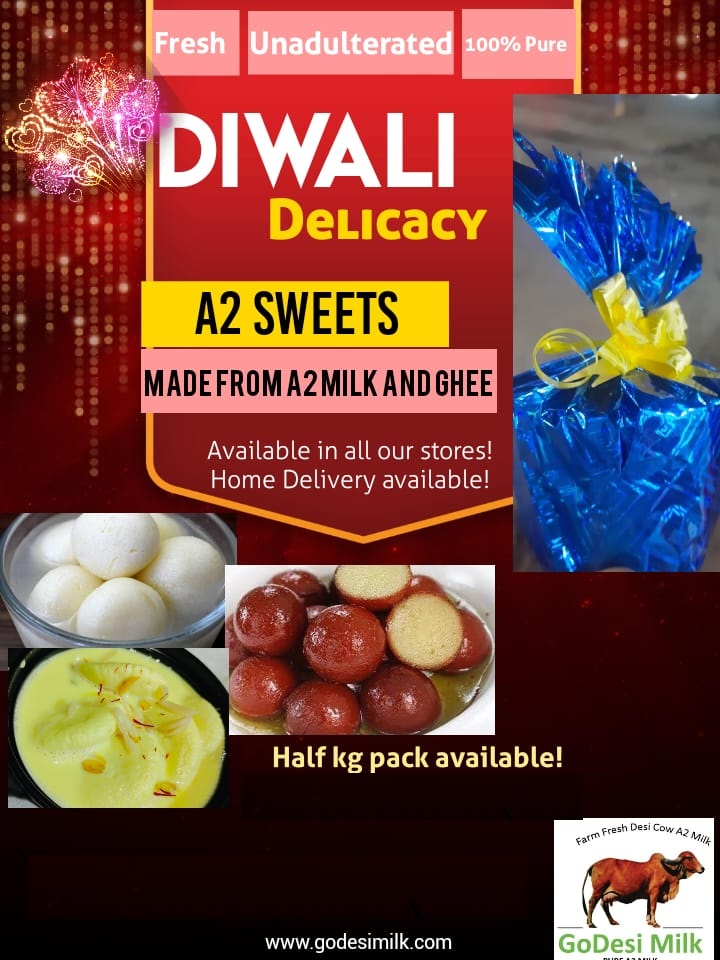 Diwali is festival of light… Diwali is a celebration of the victory of good over evil.
So to lighten and brighten our love one's mood and to celebrate joyous and sparkling time, we gift them sweets and chocolates.
Before gifting we should always look after health.. As said Health is Wealth….
So GoDesi launched healthy Exclusive A2 milk Sweet which is healthy and tasty.
We have launched sweets which are totally made using Pure A2 Milk and Pure A2 Ghee.
Diwali Gift Pack 1 : Desi A2 Ghee Sweets Rs. 500/ for 500Gms
5 types of healthy A2 sweets in Gift Box Packing:
1) 100g Khaju Katli
2) 100g Motichoor Ladoos
3) 100g PalaKova
4) 100g Milk Mysore Pak
5) 100g kova Puri
Diwali Gift Pack 2 : Desi A2 Milk Sweets 500gms for Rs. 500/
Healthy Exclusive A2 milk sweets in Gift Box Packing:
500gms Rasmalai or
Rasgulla or
Gulab Jamun
Each box consists of 10 to 12 exclusive A2 Milk Sweets